RadGnaRack, The Modular Adventure Rack
USA-made hitch-mounted system for eBikes, mountain bikes, and road bikes: RadGnaRack – The ultimate in quality and longevity


The RadGnaRack (Rad-Naar-Rack) is a modular hitch mounted equipment transportation device. The first module is designed primarily for convenience in the loading of heavy eBikes, but can just as easily be used with mountain or road bikes. Future modules will allow for transportation of other large outdoor adventure equipment or storage resources. The RadGnaRack was designed, fabricated, and assembled in the USA. The design and materials used for construction aim to maintain the highest level of quality and durability possible to ensure that people can rest assured that their equipment is safe and secured.
We love to work with customers on creative projects. Feel free to reach out to us if you'd like to partner with us on your next project. We'll have a member of our engineering team get back to you as quickly as possible.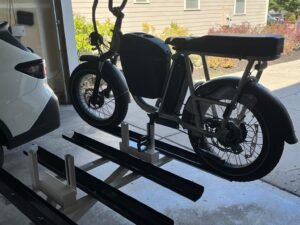 US Shipping
All prices in US dollars and we ship everywhere in the United States
Best Quality
Our modular racks are synonymous with high quality superb engineering
Secure Payments
With our secure payment system, you can rest assured your transaction is safe
What kind of hitch do I need
2" hitches are required and an adaptor is not recommended
Can I pick up directly from Rad Gnar Products
Yes! Please contact us to schedule a time for pick up 
What kind of bikes can I load
With the RGP-100, bikes are secured through a crank arm retention system. Our design allows multiple tire sizes and a wide variety of geometries. Our engineers have designed this for the widest range of crank arm designs as possible. If you are concerned about fit, please feel free to reach out to our team.
Can I use this rack with my fat bike
Yes! Our wheel tray design has slots intended to allow the user to secure skinny tires or fat tires up to 5 inches.
Do you offer industry discounts
No, we strive to keep our overhead and price as low as possible and focus on quality of design and manufacturing.
Do you sell through retail locations
No. We sell directly through our website because we are a local small batch manufacturer.
Where are your racks manufactured
Our racks are designed, manufactured, assembled, and shipped from the United States